Who are/were the FSFE Fellowship? Starting Fellowship 2.0?
Since the FSFE Fellowship elected me as representative in April 2017, I've received a lot of questions from fellows and the wider community about what the Fellowship actually is. As representative, it is part of my role to help ensure that fellows are adequately informed and I hope to work towards that with this blog.
The FSFE Fellowship was started in 2005 and has grown over the years.
In 2009, around the time the Fellowship elections commenced, Georg Greve, FSFE's founder commented
The Fellowship is an activity of FSFE, and indeed one of the primary ways to get involved in the organisation. It is a place for community action, collaboration, communication, fun, and recruitment that also helps fund the other activities of FSFE, for example, the political work.
Later in 2009, articles appeared in places like Linux Pro Magazine promising
From November 2009, the Free Software Foundation Europe will be offering three free Fellowships each month to open source activists.
In May 2018, when Fellowship elections were abolished by a group of nine people, mainly staff, meeting in Berlin, a small news item was put out on a Saturday, largely unnoticed by the community, arguing that fellows have no right to vote because
the community would never accept similar representation for corporate donors it is inappropriate to have such representation for any purely financial contributor.
How can long-standing FSFE members responsible for "community action, collaboration, communication, fun, and recruitment" be mistaken for a "purely financial contributor"? If open source activists were given free Fellowships, how can they be even remotely compared to a "corporate donor" at all? How can FSFE so easily forget all the effort fellows put in over the years?
The minutes show just one vote to keep democracy.
I considered resigning from the role but I sincerely hope that spending more time in the role might help some remaining Fellows.
Financial contributions
Between 2009 and 2016, fellows gave over EUR 1,000,000 to FSFE. Some are asking what they got in return, the financial reports use just six broad categories to show how EUR 473,595 was spent in 2016. One person asked if FSFE only produced EUR 37,464 worth of t-shirts and stickers, is the rest of the budget just overhead costs? At the very least, better public reporting is required. The budget shows that salaries are by far the biggest expense, with salaries, payroll overheads and office facilities being almost all of the budget.
In 2016 one single donor bequeathed EUR 150,000 to FSFE. While the donor's name may legitimately be suppressed for privacy reasons, management refuse to confirm if this person was a fellow or give the Fellowship representatives any information to ensure that the organization continues to remain consistent to the philosophy in practice whenever the will had been written. For an organization that can so easily abandon its Fellowship and metamorphise into a corporate lobby group, it is easy to imagine that a donor who wrote a will five or ten years ago may not recognize the organization today.
With overall revenues (2016) of EUR 650,000 and fellows contributing less than thirty percent of that, management may feel they don't need to bother with fellows or elections any more and they can rely on corporate funding in future. How easy it is to forget the contributions of individual donors and volunteers who helped FSFE reach the point they are in today.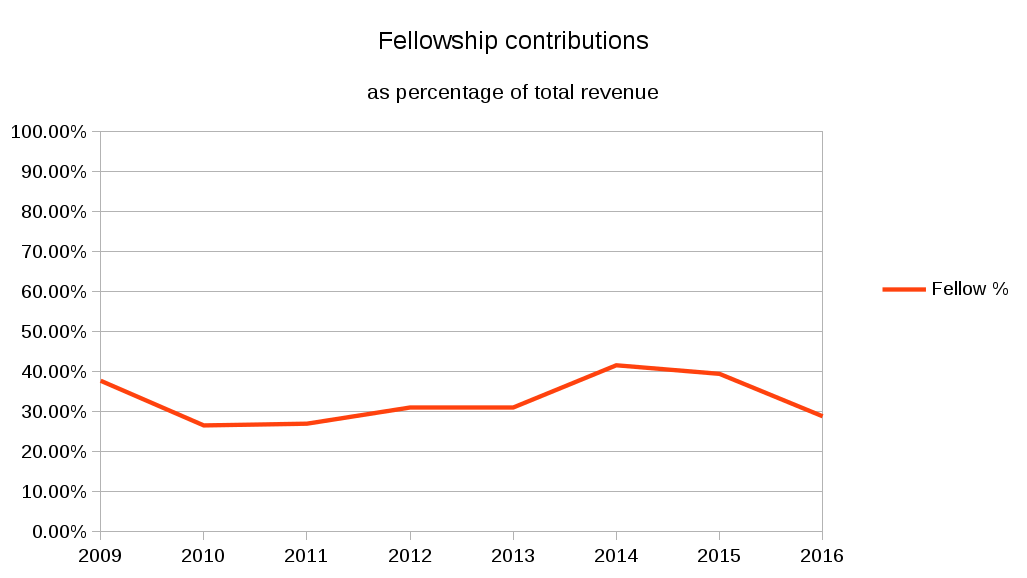 Force-migration to the supporter program
Ultimately, as people have pointed out, the Fellowship has been a sinking ship. Membership was growing consistently for eight months after the community elected me but went into reverse from about December 2017 when fellows were force-migrated to the supporter program. Fellows have a choice of many free software organizations to contribute their time, skill and donations to and many fellows were prompted to re-evaluate after the Fellowship changes. Naturally, I have been contemplating the same possibilities.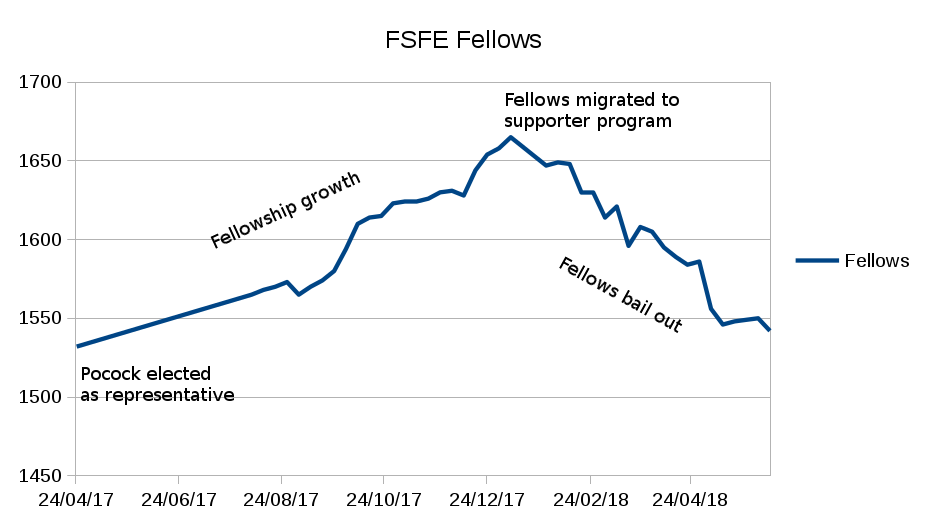 Many fellows had included their status as an FSFE Fellow in their email signature and business card. When speaking at conferences, many fellows have chosen to be introduced as an FSFE Fellow. Fellows tell me that they don't want to change their business card to say FSFE Supporter, it feels like a downgrade. Has FSFE made this change in a bubble and misjudged the community?
A very German organization
FSFE's stronghold is Germany, 665 fellows, roughly half the Fellowship. With membership evaporating, maybe FSFE can give up trying to stretch into the rest of Europe and try to regroup at home. For example, in France, FSFE has only 42 fellows, that is one percent of the 4,000 members in April, the premier free software organization of the French speaking world. FSFE's standing in other large countries like the UK (83), Italy (62), Netherlands (59) and Spain (65) is also very rudimentary.
Given my very basic level of German (somewhere between A1 and A2), I feel very privileged that a predominantly German community has chosen to vote for me as their representative.
Find your country in the data set.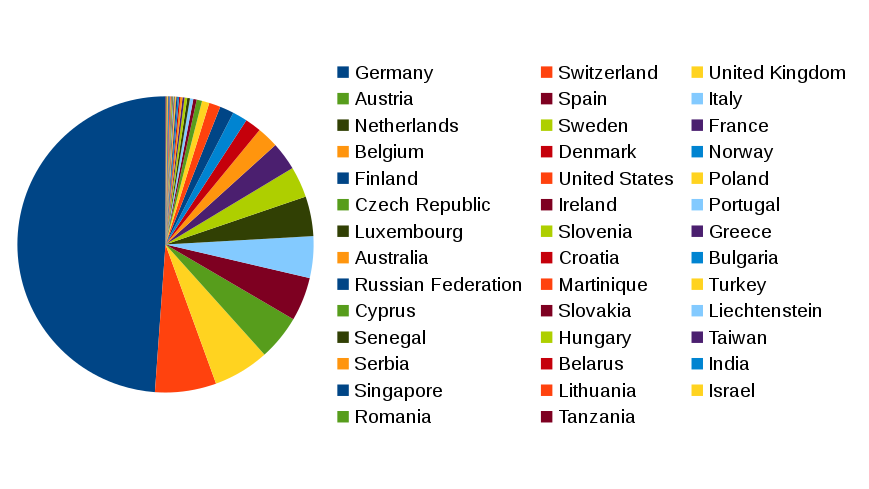 FSFE beyond the fellowship
As the elections have been canceled, any members of the community who want to continue voting as a member of the FSFE association or attend the annual meeting, whether you were a fellow or not, are invited to do so by clicking here to ask for the president to confirm your status as an FSFE member.
Fellowship 2.0?
Some people have asked whether the Fellowship should continue independently of FSFE.
It is clear that the fellows in Germany, Austria and Switzerland have the critical mass to set up viable associations of their own, for example, a Free Software Fellowship e.V.. If German fellows did this, they could elect their own board and run their own bank account with revenues over EUR 100,000 per year just from the existing membership base.
Personally, I volunteered to act as a representative of fellows but not as the leader or founder of a new organization. An independent Fellowship could run its own bank account to collect donations and then divide funds between different organizations instead of sending it all to the central FSFE account. An arrangement like this could give fellows more leverage to demand transparency and accounting about campaign costs, just as a large corporate donor would. If you really want your money to go as far as possible and get the best results for free software, this is a very sensible approach and it will reward those organizations who have merit.
If other fellows want to convene a meeting to continue the Fellowship, please promote it through the FSFE mailing lists and events.
Concluding remarks
Volunteers are a large and crucial part of the free software movement. To avoid losing a community like the Fellowship, it is important to treat volunteers equally and fully engage them in decision making through elections and other means. I hope that this blog will help fellows understand who we are so we can make our own decisions about our future instead of having FSFE staff tell us who to be.
---
Download data used in this blog.